Canada Sees More NFC Commercial Launches with SIMs, but Market Remains Unsettled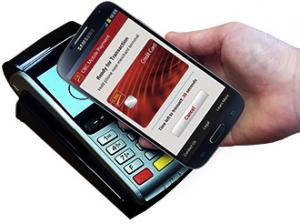 NFC Times Exclusive: With its high rate of smartphone ownership, strong contactless-payment infrastructure and well-developed NFC ecosystem, Canada is increasingly seen as a market to watch for NFC commercial deployments.
UPDATED: Four major banks have already launched NFC commercially. In addition, a regional bank and telco have also launched NFC payments, the latter with a prepaid co-branded card. (See table in full story.) END UPDATE.
Like another budding NFC-payments hotspot, Australia, Canada has a highly concentrated banking sector, and banks in both countries want to take advantage of the strong penetration of contactless point-of-sale terminals at merchant locations to roll out NFC.
Canadian telcos and their backers like to point out that all of the launches so far have used NFC SIM cards. That includes Royal Bank of Canada's RBC Secure Cloud service, which puts tokens and a small applet on SIMs.
Backers of SIM-based NFC characterize the commercial launches to date as an example of close cooperation between banks and telcos in introducing mobile payments.
But as in Australia, there is much interest in host-card emulation among Canadian banks, with four of the big five banks in Canada in various stages of working on full HCE, a banking source told NFC Times.
Words:
2,500
Graphics:
(Updated) Table: NFC commercial launches of five major Canadian issuers and one planned–includes launch dates, as well as the payment brands, mobile operators and SP-TSMs the issuers are working with
(Updated) Fact box: Snapshot of Canadian market in terms of contactless infrastructure, active players, HCE launches to date, etc.
Among Topics Covered:
Dynamics of Canadian NFC market and possible implications for other markets
Prospects for bank-telco cooperation in Canada's highly concentrated banking and telcos sectors
Launches by Canadian banks on NFC SIMs
Interest by banks in host-card emulation
EnStream's role in connecting banks and telcos
Details of Canada's contactless infrastructure
Economics of the SIM-rental model in Canada
Visa's backing for HCE
Sources quoted:
Nauby Jacob, vice president for products, services and content, Bell Mobility
Derek Colfer, head of mobile innovation, Visa Canada
Pawel Chrobok, director of business development, EnStream
Christie Christelis, CEO, Technology Strategies International
CIBC spokesman
Among companies and organizations mentioned:
Royal Bank of Canada
CIBC,
Rogers Communications
Bell Mobility
Telus Mobility
TD Bank Group
Desjardins
Scotiabank
President's Choice Financial
Isis
This is premium content from NFC Times.
© NFC Times and Forthwrite Media. NFC Times content is for individual use and cannot be copied or distributed without the express permission of the publisher.
print $links ?>