Chinese Social-Networking Site Promotes NFC with Nokia Tie-in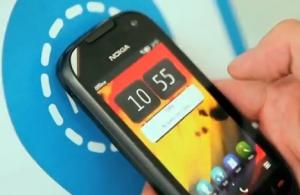 Chinese social-networking site Jiepang has expanded its use of NFC, and has announced a tie-in with Nokia and the handset maker's new line of affordable NFC-enabled smartphones.

A Jiepeng app will be preloaded on three smartphones Nokia announced this week for release during the third quarter, the Nokia 600, 700 and 701. All run the latest version of the Symbian operating system, nicknamed Belle.
Nokia, which announced the new phones Wednesday, sees NFC as a major selling point for its new Symbian phones as it tries to preserve interest in the platform while preparing to launch its first Windows-based smartphones later this year. It hopes to sell the latest models, the 600, 700 and 701, with prices starting at an unsubsidized €180 (US$260), in both developed, as well as developing markets, such as China.
Nokia apparently believes a tie-in with the popular Jiepang service could help in that effort. Neither Nokia nor Jiepang released financial terms of the tie-in, however.
That tie-in, announced in Hong Kong this week, would enable Jiepang users to check in at restaurants, stores and other places and share those locations with friends by tapping their phones on tags embedded in stickers that merchants can affix to their storefront windows and locations in their establishments.
Jiepang is modeled after the U.S.-based check-in site foursquare, which is reportedly blocked in China. Like foursquare, Jiepang users can earn badges or rewards for checking in, and they can redeem the rewards with merchants or for other prizes with consumer products partners. Foursquare has also experimented with NFC.
Jiepang said it plans to distribute NFC window stickers to merchants in four large mainland Chinese cities, Beijing, Shanghai, Guangzhou and Chengdu, along with Hong Kong. Also, it said it will send stickers to merchants in Taipei, capital of the nearby island nation of Taiwan.
Jiepang has apps for other platforms, including Android and the iPhone's iOS, so users with other standard NFC-enabled phones, such as Google's Nexus S, should be able to check in by tapping their phones.
Jiepang trialed NFC-based check-ins at a music festival in Beijing in the spring and appears to have growing interest in the technology as a way to make check-ins easier. It sponsored a music video to promote the technology and promotional tie-in with Nokia. Jiepang CEO David Liu said in a statement that "NFC check-ins have a lot of user benefits," adding that the company believes merchants will feel "comfortable rewarding check-ins, as they will know for sure that Jiepang users are actually physically in their stores."
NFC has more pinpoint accuracy than GPS and other technologies used for check-in services, but, of course, there are few NFC phones available yet.
The check-in service is the type of "open NFC" application Nokia has been pushing hard of late, especially using NFC's tag-reading function. Nokia this week, for example, introduced an NFC-enabled Bluetooth headset, which users could tap with their NFC phones to easily pair the devices. The Finnish handset maker also has a promotional deal with Rovio, maker of the popular game Angry Birds, and is preloading the game on its new NFC-enabled Symbian handsets.
Nokia is also promoting peer-to-peer functionality in its C7 Symbian NFC phone and forthcoming Symbian NFC phones this year, such as the 600, 700 and 701. But as NFC Times reported, Nokia also plans to support payment in the phones starting in the first half of 2012. And its handsets based on Microsoft's Windows Phone are expected to support NFC-based mobile wallets starting next year.
print $links ?>