RIM to Release First NFC BlackBerry Models Later This Month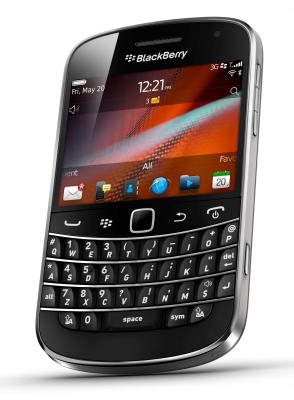 Research in Motion today confirmed shipping dates for its first NFC-enabled phones, the Bold 9900 and closely related 9930 models, which RIM said would begin to become available from mobile carriers worldwide later this month.

RIM first announced the phones three months ago and executives had indicated they would be out before the end of August. RIM is touting the phones as the thinnest BlackBerry models yet. Both support the phone maker's upgraded BlackBerry 7 operating system.
RIM announced three other models today, also supporting the BlackBerry 7 OS, though not NFC, as it seeks to recapture sagging market share in the United States and attempts to continue to expand globally.
The Canada-based phone maker said the five phones represented its largest single launch, and RIM noted that it has deals with at least 225 mobile operators to sell one or more of the new models. Of course, the 9900 and 9930 are practically the same phone, with the 9900 supporting tri-band cellular radio frequencies, which the 9930 doesn't. Two of the other non-NFC devices that RIM announced today, part of its Torch series, are also similar.
Update: A spokeswoman for RIM told NFC Times that the Bold NFC models, or at least the 9900, would be the first of the phones announced today to be released–by the end of August. End update.
RIM, in its announcement today, like the one in early May first disclosing plans for the two NFC-enabled Bold models, did not mention the ability of the phones to support payment or other secure applications in its press material. That is despite the fact that the new Bold models are expected to pack embedded secure chips and also support applications on SIM cards, via a standard single-wire protocol connection.
Instead, RIM mentioned tag-reading and device-pairing applications that the NFC chips inside the phones could offer in its press release. Update: But the spokeswoman said RIM plans to support contactless payment with its NFC phones. End update.
Sources have told NFC Times that RIM has been working on its own mobile wallet and may have plans to try to earn revenue from service providers putting their applications on the embedded secure elements. RIM could offer its own applications, as well, such as physical access control to complement its network-authentication services.
If true, RIM would need to control the embedded secure chip in the phones, and this could make for some tension with carriers, which RIM is counting on to buy the phones. RIM executives speaking at conferences earlier this year have not denied they would have embedded secure elements in their NFC phones, but have stayed mum when asked what they would use the chips for.
It's little surprise then that in its announcement today, RIM only mentioned the benefits of NFC as a way to "pair accessories or read smart-poster tags with a simple tap of the smartphone."
There was no mention by RIM of mobile wallets or the phones working in card-emulation mode, which most payment services would use. But among telcos expected to introduce the phone for NFC are those in Europe, which have been anticipating the shipment date for the models. And these telcos definitely plan to offer payment and ticketing applications that would use card emulation on the phones.
France-based Inside Secure is supplying the NFC chips for the two models. Inside is working on its own secure element design, but is expected to have used an embedded secure chip provided by Germany-based Infineon Technologies for the new RIM phones. The Infineon secure chip is stacked with Inside's NFC radio chip.
Since the NFC chips for the new Bold models also are expected to allow for applications to be stored on SIM cards via the single-wire protocol, or SWP, there could be at least two secure elements in the phone.
It remains unclear how many more NFC-enabled BlackBerrys RIM will release this year. Executives have said earlier this year that many if not most of its phones would support NFC, though have been vague on release dates. RIM did not mention that the three other handsets it announced today, additions to its Torch series, the Torch 9810, 9850 and 9860, support NFC.
A source has told NFC Times that he expected RIM to introduce one to two more NFC-enabled BlackBerrys this year.
print $links ?>