Samsung Expands Distribution of Branded Tags; Uses Standard Chip
NFC Times is Expanding Its Coverage
This story is a free sample of new premium content from NFC Times, the most authoritative source of news and analysis in the industry.
To view this sample story, click here:
Or download it as part of a free sample of the world's first global PDF newsletter devoted to the business of NFC and related topics:
NFC Times: The Intelligence Report
Become a subscriber to NFC Times to receive future issues of the newsletter and exclusive online news and analysis: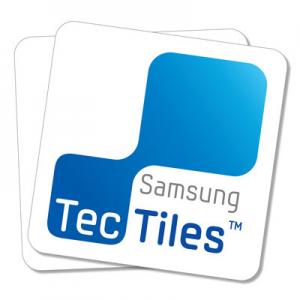 Samsung is planning to sell its branded NFC tags in physical stores for the first time, with AT&T, Sprint and Best Buy stores selling or planning to stock the second-generation TecTiles tags starting last May, the device maker has told NFC Times.
Samsung will continue to also sell the tags online, as well, from its microsite. And unlike its first-generation tags, which the device maker introduced in 2012, TecTiles 2 will carry standard chips and will be compatible with future Samsung NFC phones, as well as backward compatible to earlier Samsung NFC handsets, the company told NFC Times.
Like the original TecTiles tags released in 2012, TecTiles 2 can be programmed to perform simple functions, such as changing phone settings, launching an application, connecting to a wireless network, displaying a message, calling or sending a prewritten SMS message to a predetermined phone number, or checking in, posting, or following accounts on social media. Users can program the chips from a TecTiles Android app.
Samsung plans to expand distribution of the tags, making them available through retailers. The device maker has sold the second-generation tags for $14.99 per pack of five through its TecTiles microsite since May.
Samsung's first generation TecTiles used Mifare Classic chips from NXP Semiconductors, which had supplied NFC controllers for all NFC-capable Samsung devices up until late 2012, including Samsung's previous flagship phone, the Galaxy S III.
Samsung switched to an NFC controller from U.S.-based Broadcom for its newest flagship, the Galaxy S4, as NFC Times reported in March. That required it to also replace the tag chip, since Mifare Classic, while still widely used for cards and some tag programs, is proprietary to NXP.
Samsung said it is using an NFC Forum standard Type 4 tags for TecTiles 2, which would enable both the NXP and Broadcom controllers in devices the tags. It would also enable Samsung and consumers to program more uses, since type 4 offers the largest memory of any tag type.
But if Samsung continues to use Broadcom NFC controllers, it would mean its newer phones wouldn't be able to read Mifare Classic tags, which are still in some demand from transport operators and other service providers that want to use tags in smart posters.
Broadcom is believed to be rejecting a limited Mifare license from NXP that would enable its NFC chips to read Classic tags, perhaps because it wants to stick to reading only NFC Forum standard tags and doesn't want to encourage sale of Classic chips for tags. These chips would come from NXP, which Broadcom views as its chief competitor for NFC technology.
Samsung's change of NFC controllers was a coup for Broadcom. The Galaxy S III with its NXP NFC controller shipped 40 million units in its first six months, and the Galaxy S4 with its Broadcom NFC controller shipped a reported 10 million units in its first month on the market, though subsequent sales have not met with some market expectations.
Google also adopted Broadcom's NFC stack for its Android operating system.
Broadcom's BCM20792 NFC controller is also being used by Nintendo for its Wii U GamePad. The Wii U sold only 1.1 million units in its first five months on the market, well behind the sales for rival consoles like the Xbox 360.
According to U.S.-based ABI Research, NXP had 74.4% of the market for NFC controllers for all devices in 2012, compared with 5.4% for Broadcom. The market share figures are expected to change substantially this year, with the business for Broadcom from the Samsung Galaxy S4 and probably other models. Broadcom fixed a software glitch that created some problems for card emulation with the GS4 at first, NFC Times has learned.
Broadcom also plans to ship its first combo wireless chips supporting NFC this year.
Jeff Miles, head of mobile transactions at NFC co-inventor NXP, told NFC Times in March that the company had "known for years that other companies would follow us once the NFC market is ramping up."
NXP, at least in the first months of 2013, had retained its business with such other Android phone makers as Sony and HTC.
print $links ?>