Small Google Wallet Merchant to Roll Out PayPass; No Couponing Yet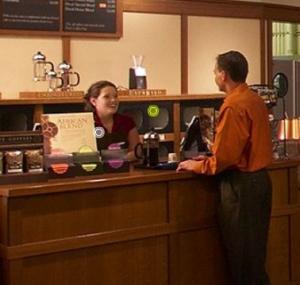 Another Google Wallet retail partner has announced it will equip its point-of-sale terminals to accept contactless payment, with the small Peet's Coffee & Tea chain planning to take MasterCard PayPass at all its locations by the end of this month.
But the California-based coffee shop chain, which has nearly 200 outlets, did not say when it would support Google Offers or other couponing and loyalty applications.
Peet's is one of about 20 mostly large chains that have so far signed on for the Google Wallet. The wallet can store a Citi-issued credit application and a Google Prepaid Card application that users can fund from their other cards. Both applications support PayPass technology. The wallet is also designed to enable users to clip coupons and other offers and redeem them in a single tap with the payment.
Users, however, are not limited to Google Wallet partner merchants to make payments. They should be able to tap their wallet phones to pay at all other PayPass merchants. That includes about 140,000 locations in the United States.
Only about four Google Wallet merchants, including 100 locations of the nearly 1,000-store office-supply chain OfficeMax, can so far accept couponing and loyalty from the wallet. Last week, the large Subway sandwich shop chain, also a Google Wallet partner, said it would accept PayPass at more than 7,000 of its stores by the end of the first quarter of 2012 in the United States, but not couponing or loyalty.
"In the longer term, we hope to use this technology to strengthen the loyalty of our existing Peet's fans by incorporating new ways of connecting with them and build relationships with people who haven't yet been introduced to Peet's," Kay Bogeajis, Peet's vice president of retail, said in a statement.
The chain said 18 of its stores in San Francisco and San Jose already accept PayPass.
Google plans to expand support for its wallet app to other Android phones. The Nexus S 4G, the only model on which consumers can download the app so far, is sold through mobile carrier Sprint.
print $links ?>