Vivotech Seeks Break Out with Help from New Funding Round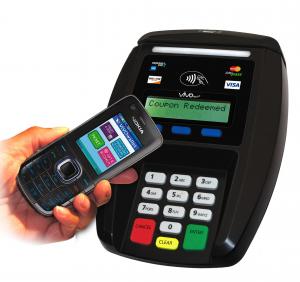 While U.S.-based Vivotech has not been profitable during its first 10 years, investors in its latest funding round apparently believe the vendor is well-positioned to take advantage of the Google-style push for NFC-based mobile commerce.

Vivotech Monday announced its series C funding round of $24 million, which includes such new investors as Motorola Solutions Venture Capital and SingTel Innov8, plus more money from current investors, such as Alloy Ventures, Citi Ventures, Draper Fisher Jurveston, First Data, Motorola Mobility and Nokia Growth Partners.
The new round brings Vivotech's total funding to $90 million over 10 years, confirmed the company.
The funding will help as Vivotech continues to try to move its business away from its dependence on unprofitable and commoditizing contactless point-of-sale payment readers to software and services used to deliver, track and redeem mobile offers, such as coupons and loyalty, for consumers on their smartphones. Web companies, among other new market entrants, see NFC technology as a way to connect the online and offline worlds.
"The Web players are looking to expand their business to physical stores," Vivotech CEO Mick Mullagh told NFC Times. "Advertising companies like Google take advertising business into the physical point of sale, knowing who you are and knowing where you are, with an Internet connection in real time and the ability to understand when you're going shopping and your preferences based on purchase history and search history."
Google last month named Vivotech, along with POS terminal suppliers VeriFone, Ingenico and Hypercom, as vendor partners for its planned launch of the Google Wallet this summer. Vivotech is providing at least some of the readers to big-name retail chains Google announced are participating in its wallet launch.
Vivotech also claims Google's "SingleTap" system, enabling consumers to tap their phones to pay and redeem offers in one transaction, is based on "core technology" from the vendor, with its "one-touch" technology, said Mullagh, though competitor VeriFone disputes that the technology for the wallet is Vivotech's.
Mullagh has said such other Web giants as PayPal and Amazon are interested in NFC and, therefore, are prospects for technology Vivotech says it can provide for the targeted offers, including over-the-air provisioning of payment and coupons to phones and terminals, along with wallet software for the phones.
Competition with VeriFone
As Mullagh and Vivotech president and co-founder Mohammad Khan try to rebrand Vivotech's image as that of an NFC company and away from a reader maker–it will go head-to-head against another Silicon Valley based supplier, VeriFone.
VeriFone, which owns more than half of the POS terminal market in the United States, earlier dropped support for Vivotech's contactless readers in favor of its own. And like Vivotech, it is targeting the market for software and services that enable NFC mobile-commerce at the physical point of sale.
VeriFone's vice president for product management, Dave Talach, contends that Google's SingleTap feature for its wallet is not based on Vivotech technology. He pointed to one of the demos during the Google Wallet unveiling last month showing offers being redeemed at at a mock American Eagle point-of-sale terminal, which he said used VeriFone technology. But Talach added that "taking credit isn't as important as making progress."
The truth of the matter is that many companies are using Google Wallet to hype their own technology, however integral it may or may not be to the pilot," he said
Competition with VeriFone is all the more reason Vivotech wants a direct share of the POS terminal market. Vivotech has renewed its bid for the U.S. terminal business of Hypercom, which had planned to divest its U.S. assets to France-based terminal maker Ingenico as part of VeriFone's planned $485 million acquisition of Hypercom.
Mullagh said Vivotech needs a more balanced mix of software and hardware sales as it moves forward. To date, the company says it has shipped 800,000 contactless payment readers for POS terminals, about three-quarters of them in the United States, giving it the lion's share of the market. The vendor also supplies some of the technology for such contactless loyalty systems as Ireland-based Zapa Technology. It has also served as trusted service manager for several NFC and at least one large contactless microSD card trial.
TSM Snub
But the decision by large payment processor and Vivotech investor First Data to choose IBM and then SK C&C USA to supply its trusted service management platform over Vivotech's was a blow. First Data announced a contract with SK C&C last fall, even though SK C&C apparently had little experience as TSM in any NFC projects or trials.
Mullagh explains the snub by saying that First Data was worried Vivotech might be bought out by a competitor. Also, Vivotech is tiny compared with SK C&C's well-funded parent, the huge South Korean-based conglomerate SK Group.
Mullagh declined to release Vivotech's revenue figures, but has said they are in the double-digit millions. He projects the company will turn a profit sometime next year and then would consider an initial public offering. Vivotech would have the "profile" of an IPO-ready company in 12 to 18 months, though he added that an IPO is not necessarily in the cards.
"We are not engineering for any specific outcome," he told NFC Times.
print $links ?>