Airline to Introduce NFC App Following Successful Sticker Launch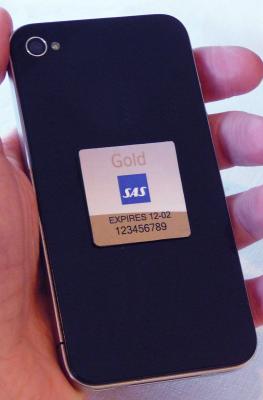 Scandinavian Airlines plans to introduce an NFC application for frequent flyers as early as this summer, enabling those with Android NFC phones to tap for a faster flow through check-in, security screening and boarding.
The application will follow the airline's much-used passive contactless sticker, Smart Pass. Scandinavian Airlines, or SAS, began rolling out the sticker to customers last October in Sweden and has since expanded it to Denmark and Norway.
Although three quarters of SAS passengers carry smartphones while traveling, only a very small percentage have NFC phones, so use of the application will likely be low for some time after the app is introduced. But the airline said it is banking on NFC to help it offer more convenience to customers using mobile phones.
"We believe a sticker like this is not really what we are looking for in the long run," said Lena Erneling Albers, manager on ground, product and customer services. "You can't send them out to too many people. We plan to integrate it (Smart Pass) into NFC phones, but that requires NFC-enabled phones."
SAS said customers have taken well to the Smart Pass stickers. Erneling Albers said 50% of customers who have been issued the passive stickers use them when they travel with the airline.
All told, the airline has issued 55,000 of the stickers and have 1,000 readers at airports in Scandinavia. The stickers contain the same information as the airline's frequent flyer card, EuroBonus, which customers use to identify their trip at self-service kiosks for the airline check in and baggage counters, as well as at security checkpoints, lounge entrances and boarding gates.
The airline has 3 million EuroBonus members, and among these it issued the sticker to many of its most loyal frequent flyers, EuroBonus Gold members. It issued 20,000 stickers last fall in Sweden and another 35,000 in Denmark and Norway starting in March.
UPDATE: The 50% usage rate refers only to EuroBonus members in Sweden. A follow-up survey of these users by SAS found that 87% said they had applied the stickers to the back of their mobile phones, and 68% said they had used it at least six times since October. END UPDATE.
She told NFC Times she was surprised at how well received the sticker has been by passengers.
"Most people carry their mobile in their hand or pockets; it's very accessible," said Erneling Albers, speaking at the recent WIMA 2012 conference in Monaco. "We see this as the first step. We want to encourage mobile behavior in our passengers."
SAS is a pioneer in using mobile technology, first sending flight info by SMS 15 years ago. It introduced SMS check-in about eight years ago.
Today, 15% of passengers use mobile phones to check in for their flights before arriving at the airport, which Erneling Albers said is the highest rate in the airline industry.
There have been at least a couple of other contactless sticker projects launched by airlines, including one introduced by Air New Zealand.
With the help of NFC technology, airline passengers will routinely tap their mobile phones to pass through security checkpoints and boarding gates by 2018, predicts major airline industry IT and communications services provider SITA.
SAS wants passengers to continue to use the Smart Pass application as much as possible to transmit their EuroBonus ID numbers to terminals, rather than relying on magnetic-stripe cards. Besides the EuroBonus number, the Smart Pass stickers store the account's expiration date. Both the account number and expiration date are also written on the front of the 29-millimeter square stickers.
UPDATE: With the NFC application, the EuroBonus number and expiration date will be stored in the app itself, not on any secure element. The airline believes it does not need the extra security the secure element provides, since the application–like the cards and passive stickers–mainly identify the passenger's trip. At secure checkpoints, they would also have to provide a passport or other secure ID. END UPDATE.
Despite the high use rate of the stickers, Erneling Albers said the airline does not plan to roll them out widely.
For one thing, it would be difficult for customers to remove the stickers from the back of their phones when they change handsets.
Also, they could put a sticker on the back of a phone that has its own built-in NFC antenna, possibly causing collision problems for the contactless signals, Erneling Albers said. That eventually could become an issue as more NFC phones get released.
But while a greater range of NFC phones will hit store shelves this year, it could be a while before a sizable share of SAS' EuroBonus members have one in their pockets, so that they could use the airline's EuroBonus NFC app.
"We don't really have any minimum customer base," said Erneling Albers. "We are going to make it possible to download. Anyone with an NFC-enabled telephone, they will be able to use it. We do believe the penetration will increase rapidly."
It remains to be seen whether Apple will support NFC in its next iPhone, or if it does, whether its implementation would support an NFC-enabled EuroBonus app.
That's a concern for SAS, since of the 15% of SAS customers who check in for their flights with their mobile phones, more than half do so with iPhone. About 25% use Android phones.
print $links ?>