Broadcom to Introduce Standalone NFC Chip as Competition Heats Up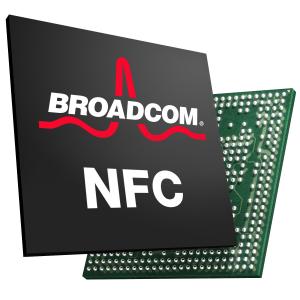 U.S.-based chip maker Broadcom is developing a standalone NFC chip, which it could introduce before the end of the year, NFC Times has learned.
Broadcom, one of the top-10 semiconductor companies worldwide and the largest supplier of WiFi and Bluetooth chips in mobile phones, according to analysts, had been thought to be planning to introduce NFC in one of its combination wireless chips for mobile phones.
But according to Craig Ochikubo, vice president and general manager for Broadcom's wireless personal area networking unit, major phone makers are looking for standalone NFC chips for the next 12 to 24 months.
And the chip maker predicts that handset makers will be ordering the standalone chips in greater quantities for models next year. Broadcom forecasts that 10% to 15% of smartphones in 2012 will support NFC.
"I see 2012 as sort of when more mature production will be coming onto the market, not just from a couple of vendors, but most every handset maker that's developing smart phones," Ochikubo told NFC Times.
Ochikubo confirmed that Broadcom will bring an NFC chip to market later this year, but he declined to confirm Broadcom's specific design plans. Sources, however, confirmed that Broadcom is bringing a standalone NFC chip to market. The chip maker also continues to work on combo chips incorporating NFC. But handset makers appear to want the standalone chips first.
Combo chips, which combine such wireless technologies as WiFi, Bluetooth and FM radio, are used in a variety of smartphones and the expectation is that smartphone makers will eventually order the chips supporting NFC, as well. The combo chips save both space and money compared with separate chips covering the different wireless technologies.
Almost exactly one year ago, Broadcom finalized its $47.5 million purchase of UK-based Innovision, which supplied Broadcom and other chip makers with intellectual property for combining NFC with other wireless technologies. The acquisition also gave Broadcom an NFC-tag unit. The chip maker is no doubt using IP it acquired from Innovision in the standalone chip, said observers.
One source believes the fact combo chips supporting NFC might not be shipping for a while is not because handset makers don't want them, but that they are proving more difficult to develop than earlier.
"Originally, everyone felt that the only way to go was directly to a fully integrated connectivity solution, but I think these are proving harder to produce than expected and, therefore, taking longer," said Glenn Needham, former NFC systems architect for Innovision and former chairman of the security working group of the NFC Forum, a standards and trade association.
Crowded Market
Broadcom's standalone chip could roil an already crowded market. Such other major chip makers as Samsung Semiconductor, Texas Instruments, Renesas Electronics and STMicroelectronics have developed standalone NFC chips.
But they aren't believed to be shipping them in volume yet. The main rival for the Broadcom NFC chips, therefore, will be NXP Semiconductors, which owns the lion's share of the budding market. NXP is either supplying NFC chips or has announced design wins for such handset makers as Nokia, Samsung, Sony-Ericsson, ZTE and Huawei.
Ochikubo questioned projections made last spring by NXP CEO Richard Clemmer to financial analysts, in which he suggested NFC phone shipments would approach 100 million this year, based mainly on NFC-enabled Android phone deployments. NXP is believed to be supplying all NFC chips and middleware to NFC-enabled Android phones. But NXP later had to sharply reduce its projection of NFC phone shipments to 40 million or fewer units.
"A lot of statements he was making seemed very bold," Ochikubo told NFC Times. "It didn't seem very credible."
If Broadcom's projection of 10% to 15% NFC-enabled smartphones in 2012 comes to pass, it would amount to roughly 100 million phones, perhaps fewer.
Michael Hurlston, senior vice president of Broadcom's home and wireless networking business unit, reportedly projected last May that 10% to 15% of all phones would be enabled, with NFC-enabled smartphones even higher. But Broadcom now says the 10% to 15% forecast is for NFC-enabled smartphones.
NXP and Samsung Semiconductor declined to comment on Broadcom's planned entry into the NFC market. Rémy de Tonnac, CEO of Inside Secure, which like NXP is supplying standalone NFC chips in volume, said it would still take Broadcom a while to refine its product offering.
"Broadcom is a formidable competitor, but we believe as a pioneer of technology and with several rounds of silicon, we'll have a good part to play here," he told NFC Times, adding that it was no surprise that there is "greater demand for standalone chips and not for big combo chips."
Inside is supplying NFC chips to Research in Motion for RIM's BlackBerry handsets that are now shipping. The chip vendor also announced it will supply Chinese handset maker ZTE with NFC technology.
Smaller Chips
Mark Hung, research director for wireless at U.S.-based research and consulting firm Gartner, said that while Broadcom is late in entering the already congested market for standalone NFC chips, it has a couple of advantages. Its chip would be based on 40-nanometer architecture, much smaller than the designs other chip makers are working with at present, he told NFC Times. This could save space and power consumption in the phones, he said. Also, in addition to smartphones, Broadcom supplies non-NFC chips for televisions, PCs, set-top boxes and peripherals, which could help it provide NFC for these devices, as well.
Broadcom's move to supply standalone NFC chips before combo chips is not surprising, said Hung. Besides the market not being ready for combo chips incorporating NFC, Broadcom has always produced wireless technologies in standalone chips before making them part of combo chips, he notes.
"This is what Broadcom did with Bluetooth before integrating it with Wi-Fi, and it is probably the path that they'll follow with GPS as well," he said. "The industry is littered with failed products where a company tried to integrate a new technology into a combo chip before having a stand-alone offering, e.g., Marvell (Technology) with its first generation Wi-Fi-Bluetooth combo chip."
No 'Preannouncements'
There will eventually be strong demand for combo chips supporting NFC, Ochikubo said. But he insisted that Broadcom does not announce chips before they are ready. That goes for the combo and standalone NFC chips.
"Obviously, we bought a company (Innovision) that develops NFC technology for a reason," he said. "I think we're moving along at the anticipated clip we work toward. One of the big things for us is not to do (product) preannoucments that don't reflect the reality."
That contrasts with such competitors as U.S.-based chip giant Qualcomm, which last February announced that its next generation of combo-wireless chipsets, which could be used for smartphones and tablets, would support NFC.
Qualcomm in a press release at the Mobile World Congress in Barcelona said its planned line of Snapdragon chips would combine WiFi, GPS, Bluetooth and FM radio, as well as NFC. But NFC Times later learned that NFC would not necessarily come as a default in the new Snapdragon chips. "We may have different solutions," said Steve Mollenkopf, executive vice president and group president for Qualcomm, at the time.
Besides Qualcomm, Broadcom is expected to eventually compete with UK-based CSR and probably Texas Instruments for combo chips supporting NFC.
U.S.-based TI announced its own standalone NFC chip last month, targeting devices other than mobile phones. The chip is geared for such applications as pairing devices with WiFi or Bluetooth, reading information from tags and sending data to mobile phones.
Tag Business Important
Broadcom is also interested in these types of applications. It got an NFC tag business, called Topaz, with the Innovision purchase, and Ochikubo said the company began shipping the tags last year.
Topaz is also one of the NFC Forum's four standard NFC tag types, but shipments so far are believed to be dwarfed by sales of tags supporting NXP's Mifare Ultralight technology. Needham, the former Innovision NFC systems architect and now director of UK-based Near Field Solutions, an NFC tag supplier, said Mifare is well established for contactless applications, so there is much availability of Mifare-based tags.
Ochikubo said tags are needed to build out the infrastructure of acceptance points for NFC. And like Texas Instruments, Broadcom believes one of the most promising applications will be enabling users to quickly establish Bluetooth or WiFi connections between devices, such as phones with PCs, televisions and with such accessories as headsets.
He said that mobile payment, while a "major pillar" of the business case for NFC, cannot alone drive adoption of the technology. Tag-reading applications would need to complement payment and other services using secure elements in NFC phones.
Secure-Element Support
Broadcom would have to work with a smart card chip vendor if the standalone NFC chip is to be stacked with an embedded secure element to support mobile payment. The chip could also support the single-wire protocol, or SWP, and, therefore, enable secure applications to be stored on SIM cards, or it might only support SWP.
For combo chips, Needham said Broadcom and other suppliers of the chips "do not need to work specifically with any one secure element provider so long as they support the interfaces," said Needham. Those interfaces would include the single-wire protocol.
Ochikubo did not comment on how the company's NFC chips would support secure applications. But he did say he believes the market has yet to decide on a de facto location for the secure element in NFC phones–either embedded chips or SIM cards.
Some mobile carriers are insisting on using the SIM to store NFC applications in the phones they sell, while others want an embedded chip and still others are unsure, he said. And other parties, such as banks, will have a say as to which way the trend goes for embedded versus SIM or other secure elements.
"I don't feel it's congealed that this is direction it's going and is headed down that path, " he said. "There is a wide degree of latitude about which way it's going to go."
print $links ?>