China Mobile and UnionPay Announce NFC Payments Launch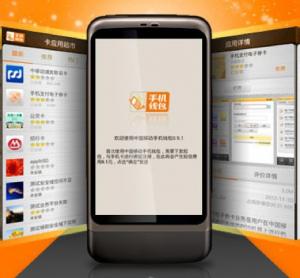 China Mobile and its mobile-payments partner China UnionPay today announced the launch of the telco's much-anticipated NFC service and mobile wallet, in at least 14 major cities with applications available from nine banks.
NFC SIM cards are available in China Mobile shops in such cities as Shanghai, Beijing, Guangzhou, Shenzhen, Chengdu and Ningbo, which consumers would need to download the payment applications over the air to start service.
Consumers could use the service on an initial five NFC-enabled Android phone models that support the single-wire protocol SIM standard–the Chinese versions of the Samsung Galaxy S4 and Galaxy S III, the HTC One, Huawei T8950N and ZTE U807N, according to reports. China Mobile's NFC-enabled wallet is available for download from the Google Play store.
Both China Mobile and China UnionPay emphasized in their announcements Sunday that they were cooperating on a joint mobile-payments platform, as part of a partnership they announced a year ago, and this would feature interconnected trusted service management systems or, as UnionPay put it, a hub. The platform could make applications available from a number of banks.
UnionPay announced that eight banks were already hooked up to the platform, including some of China's largest: Bank of China, Shanghai Pudong Development Bank, China CITIC Bank and China Minsheng Banking Corp. A ninth bank, China Merchants, was also reportedly connected.
The banks would support UnionPay's Quick Pass contactless application, which the payment scheme has said is supported on 1.2 million point-of-sale terminals in China, though it's not clear whether all are activated.
China Mobile said it also plans to support transit cards, campus and corporate ID cards, city cards, coupons and membership and other loyalty cards in its mobile wallet. The operator has said that, in all, there is about 500 kilobytes of space available in its NFC SIMs for applications. And there are expected to be non-NFC applications in the wallet, as well.
The big telco said last October that it planned to distribute more than 10 million 3G NFC phones and sign up 3 million users by the end of 2013. It reaffirmed both goals recently, including repeating the intention today to roll out more than 10 million NFC phones this year.
The telco is expected to introduce more models, and has said in the past it would offer NFC smartphones supporting the domestic TD standard from at least six device brands, Samsung, HTC, Huawei, Lenovo, ZTE and Coolpad, the latter from Yulong Telecommunication.
China Mobile had earlier said it planned to launch a large pubic pilot, as early as February, but that high-profile trial didn't happen, and by all accounts Sunday's launch was the unveiling of commercial service.
Although China Mobile and China UnionPay have agreements to work together on the payments platform, SWP-SIM technical specifications and at least parts of the mobile wallet, it remains to be seen how closely the two giants mesh once service rolls out.
China Mobile hasn't fully given up its designs on a piece of the payments business, which it was after when it proposed its own payments brand using its own RF-SIM technology–a plan that angered UnionPay.
The telco dropped the idea a few years ago, but owns a significant stake in Shanghai Pudong Development Bank and is already promoting use of this bank's mobile-payments service on in its wallet and has an e-cash application with the bank. The appliciations with the bank still support Quick Pass, but the telco is probably collecting transaction fees.
Meanwhile, UnionPay launched its own mobile wallet in July for Android phones and the iPhone–not yet supporting NFC–enabling users to add their payment cards and loyalty cards, coupons and eventually e-tickets.
China Mobile has said it also could earn revenue from NFC by renting space on its SIM cards and offering a platform for merchants to deliver coupons.
The operator might also charge fees from users, though perhaps not at first. And the telco might also take a cut of the fee when consumers pay for content, such as music or e-books as well as apps. The payment could come out of the same account as is used for physical world NFC payments, China Mobile has indicated.
UnionPay itself has tried promoting NFC payments using secure elements other than SIM cards–an embedded secure element and microSD, and it's not clear the payment scheme has fully given up on either idea, especially embedded chips.
But at least for now, both China Mobile and China UnionPay are talking up cooperation and SIM-based NFC, where both appear to believe the mobile-payment market is a promising untapped opportunity.
The other banks that UnionPay said are hooked up to the TSM are China Everbright Bank, China Guangfa Bank, Bank of Beijing and Bank of Shanghai. Others are planned, said UnionPay, which said the service is also available in Changsha, Nanjing, Suzhou, Hangzhou, Fuzhou, Xiamen, Hefei and Lanzhou.
print $links ?>