Gulf Telco Plans to Launch NFC Payment Service on BlackBerrys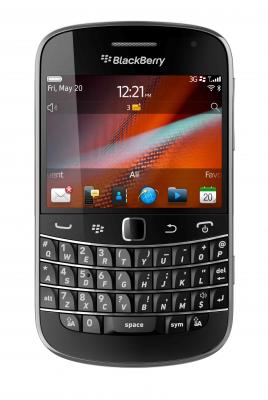 Etisalat, the United Arab Emirates' largest telco, disclosed plans to introduce NFC payment to the Gulf state, putting a MasterCard PayPass application on SIM cards in at least one NFC-enabled BlackBerry model.
An announcement today by MasterCard Worldwide noted that BlackBerry maker Research in Motion would collaborate on the project along with France-based Oberthur Technologies, which is believed to be making the NFC-enabled SIMs.
RIM announced in August that Etisalat would be introducing its BlackBerry Bold 9900. A report by Reuters said today that this would be the first model supporting Etisalat's NFC service, which would put a PayPass "debit prepaid" application on the phones. The name of the planned bank issuer, however, has not been released.
The report quoted Etisalat senior manager for m-commerce, Enrique Beza, as saying that the carrier hopes to reduce churn by offering the service. Etisalat is in a heated battle for subscribers with competing operator du, which together make up UAE's telecom duopoly.
"Hopefully, by adding services, especially financial services, this is an application that our subscribers will appreciate and stay with us," he reportedly said, likely speaking at the Gitex computer and electronics trade show being held this week in Dubai.
It's the first announcement of a planned NFC payment service using a BlackBerry phone. But while the Reuters report said Etisalat predicts the service will launch before the end of the year, it also noted that the payment service was pending approval from UAE government regulators.
In addition, the BlackBerry Bold and NFC-enabled SIM cards from Oberthur are still believed to be undergoing certification from MasterCard to carry a PayPass application–though MasterCard could grant a waiver to allow the service to launch.
But the biggest obstacle to an NFC payment rollout in the UAE–besides the shortage of NFC phones–is the scarcity of point-of-sale terminals accepting contactless payment.
Fewer than 2% of POS terminals in the country, or about 700 terminals, support PayPass, NFC Times has learned.
MasterCard was not available for comment on today's announcement. Its release did not say when the service would launch.
Etisalat group, which has branch operators in 18 countries in the Middle East, Africa and Asia, announced in July it had launched a "Touch and Go" NFC payment service with its subsidiary, Zantel, in Tanzania. The service, which also has MasterCard and Oberthur as partners, would add to Zantel's mobile-banking service in the East African country.
The announcement didn't mention the number of merchants that could accept NFC-based payments in Tanzania or phone models available, however. It did say a mobile adaptor would be available, likely Oberthur's NFC bridge technology that uses a flexible antenna to connect to SIM cards in non-NFC phones.
RIM's BlackBerry Bold 9900 has an embedded secure chip and also supports a single-wire protocol connection to the SIM. That is probably true of its NFC-enabled Curve, as well, which RIM also has introduced in a variety of markets.
MasterCard, in its announcement today, indicated the application on the Etisalat NFC phones would be a prepaid service, funded from users' credit, debit or prepaid MasterCard card accounts. The consumers would be prompted to enter a PIN code on their mobile phones before completing a transaction, said MasterCard.
Yesterday, RIM's co-CEO, Jim Balsillie, also speaking at Gitex in Dubai, announced that new NFC-enabled BlackBerrys would be able to transfer documents, contacts and other data in peer-to-peer mode with RIM's BlackBerry Tag feature. The NFC phones would require an update to the BlackBerry 7 operating system on the phones to support the P2P feature.
print $links ?>